Introduction:
Step into the world of artistry and elegance with our latest additions to the collection! We're excited to unveil three new handmade macrame creations that are sure to capture your heart and transform your living space. From dreamcatcher-inspired wall hangings to vibrant statement pieces, these additions are a testament to the beauty of craftsmanship and creativity. Let's dive in and explore the unique stories behind each creation.
---
"Dreamy Boho Vibes: Pale Pink Dreamcatcher Style Wall Hanging"
Introducing our dreamcatcher-inspired wall hanging in delicate pale pink. Crafted with precision and adorned with small wooden beads, this piece exudes boho charm and adds a whimsical touch to any room. Learn more about the inspiration behind this dreamy creation and how it can bring a sense of tranquility to your decor.
---
"Vibrant Pop: Purple Statement Wall Hanging"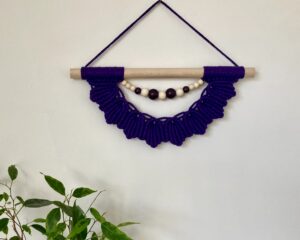 Make a statement with our vibrant purple wall hanging! Crafted from 3mm cord and finished with a mix of purple and neutral-colored wooden beads, this piece is a visual delight. Dive into the details of the design and discover how this bold creation can become the focal point of any space, adding a burst of color and personality.
---
"Soothing Elegance: Pale Green Boho Wall Hanging"
Explore the soothing elegance of our pale green boho wall hanging. Mounted on a 30cm dowel and adorned with dark green and neutral beads, this creation seamlessly blends tranquility with eye-catching allure. Uncover the design elements that make this piece a versatile and captivating addition to your decor.
---
Elevate Your Space with Handmade Macrame Artistry
In closing, these three new handmade macrame creations are more than just decor; they're expressions of artistry and craftsmanship that can transform your living space. The dreamcatcher-inspired pale pink wall hanging adds a touch of whimsy, the vibrant purple statement piece becomes a bold focal point, and the soothing elegance of the pale green boho wall hanging brings tranquillity. Together, they create a harmonious symphony of colours and textures, offering a unique blend of boho charm to enhance any room. Dive into our online store, explore the stories behind each creation, and bring the beauty of handmade artistry into your home. Elevate your space and make a statement with these one-of-a-kind macrame pieces